The Vineyards
The good exposure of the vineyards, the particularity of the soils together with the care and expertise devoted to the various cultivation phases and the subsequent vinification are what convey such excellent quality to our products.
Cultivated Surface

15 Hectares

Soils

Sandy with clayey or calcareous veins


Grapes

Barbera, Dolcetto, Cortese and Moscato

Notes

The vineyards are worked exclusively by Family
Soil
Different are the soils of the vineyards cultivated.
The soil of vineyards cultivated with red grapes are mainly sandy with streaks of clay or limestone, while soil of vineyards cultivated with white grapes are clay or sand with streaks of clay.
Climate
The proximity to the Alps brings cold winters but the temperature is mitigated by winds from the Sea. Our vineyards are just 80 km from Liguria, as the crow flies, and this means that they enjoy all the benefits of the "marin", the warm and salty Ligurian wind.
Grape Varieties
Our production philosophy is founded on the desire to enhance the characteristics of our territory, which is why we have chosen to cultivate Barbera, Dolcetto, Cortese and Moscato.
Four grape varieties which have always represented this area.
Sun
The vineyards are blessed with excellent exposure, with Bricco dell'Uccelletto in particular. Our grapes receive excellent exposure to the sun, which is essential to obtain the best sensory characteristics during the ripening phase.
Vineyards
Cà d'Ces, La Maria, Vigna d'Capural, La Piduleina, Bosconero, Vigna del Curtì and Bricco degli Uccelletti are just some of our vineyards. Names with meaning, linked to people, places and events that are part of our local history.
Cellar
Our cellar hosts the equipment required for the fermentation of the must and storage of the wine, including cascade winemakers for red wines, numerous glazed concrete tanks and wooden barrels for the ageing our our Barbera.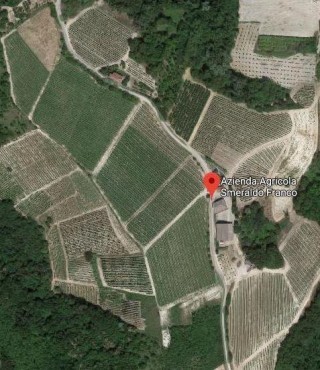 Cantina Smeraldo is in Regione Garbazzola, Calamandrana, in one of the highest points in the Belbo Valley, between Nizza Monferrato and Canelli.
Both have been declared UNESCO World Heritage, along with their most representative wines: Barbera and Asti.
Calamandrana is 40 km from Alba, capital of the Langhe and home of the International Alba White Truffle Fair, and is strategically placed 90 km from Turin and Genoa, and 130 km from Milan.